Double Paralympic athletics champion still smiling, still competing and still winning… in three new sports
Alphanso Cunningham is not always immediately sure who he is when he first wakes up.
Is he the 41-year-old basketballer hoping to play for Jamaica at this summer's Commonwealth Games or is he the Para table tennis player training furiously for his first major international competition? Or perhaps he is a wannabe wheelchair fencer, finding himself falling in love with yet another sport? Or is he even Alphanso Cunningham, the double Paralympic athletics champion?
The answer is, he is all of them.
"I love sports. I have tried my hand in everything," Cunningham laughed, before revealing why the man who claimed the F53 Paralympic Games discus title in Athens in 2004 and followed it up with gold in the F52/53 javelin at London 2012 has left the field events far behind.
"My body was telling me no to the field events. I have done 18, 19, 20 years (of field events) and my body needed that change. So, I switched. I wanted to show my talent in different areas which I knew I was good in."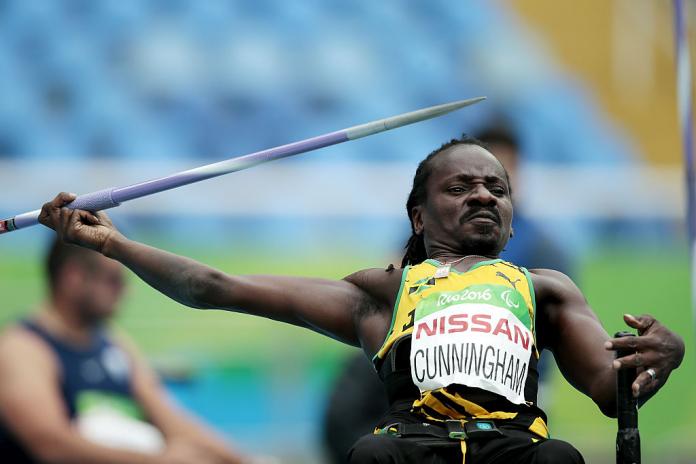 In love with basketball since his teenage years and having always relished the lightning-fast nature of table tennis, the first two "areas" to focus on were obvious. The third, a little less so.
"Fencing is a new thing for me and I kind of like it," Cunningham said, the laugh back in his voice. "I like the sword fighting. I am going (to be) 42 this year and right now I feel 22."
Win like dad
There is one other key reason the youthful-feeling Cunningham is not spending time off from his day job as an orthopaedic technician lounging on one of Jamaica's famous beaches.
"I was about to retire but she enjoys seeing me on TV and I promised I would get her a medal," Cunningham said of his six-year-old daughter.
"So, she always asks, 'When am I going to get one of your medals?' She likes to see her dad on TV and she likes to see me sometimes when I train.
"I want to encourage her because she wants to be a winner like her dad. So, I will continue until she gets full understanding. She is doing good in school. She won her first medal recently, her first trophy; she came first in her spelling. I said to her, 'That's a start.'"
Power of sport
The power of sport is something Cunningham, who was born with osteogenesis imperfecta, a congenital condition characterised by brittle bones, is acutely aware of, and thankful for.
"Sport (has) propelled me to be a better person. It has taught me, inspired me and it made me want to inspire another generation," he said. "I realised sports can change your life. I can't sing, I am not a musician. People try other things to inspire themselves and people and I chose sports."
His achievements on the athletics field, which include a world championship gold medal and four Para Pan American titles as well as those Paralympic crowns, have certainly done that. As have his efforts to reinvent himself as a master of multiple sports. It is no wonder therefore that people all over Jamaica, from school kids to grandparents, appreciate this ever-smiling phenomenon.
"I don't worry about my disability because sport changed that and I want to change other peoples' lives, not only disabled but able-bodied persons," Cunningham said. "When I go down the road I meet people and (they say), 'You know you inspired me even though I can walk.' I use that as a driving force to teach people in my country." 
Jamaica's first National Paralympic Day, held on 11 March, was an opportunity Cunningham grabbed to do just that.
"I am excited that we have a Paralympic Day in Jamaica, so all eyes can be focused on Paralympians and persons with disabilities," Cunningham said, having spent some of the day helping renovate the Paralympics Multipurpose Court at Jamaica's Sir John Golding Rehabilitation Centre.
"It's so people can know, 'Yes, we have persons who, even though they are physically challenged, have a day where they can express themselves and their sports.' It wasn't that big because it was the first time here in Jamaica but we know next year is going to be greater and I am going to help."
It is no surprise to hear that from a man who shows no sign of slowing down